Post by Deleted on Mar 10, 2020 17:59:35 GMT -5
Ok I decided to make a large list of impressive predation and combat feats done by bears.
Some of these accounts, you guys probably know but... I COULD NOT CARE LESS
Lol I was just joking but this a large list and some accounts are definately new.
Brown bear
Solitary grizzly killed an adult bull moose
books.google.it/books?id=GarwAAAAMAAJ&q=grizzly+bear+killed+a+bull+moose&dq=grizzly+bear+killed+a+bull+moose&hl=it&sa=X&ved=0ahUKEwjLtoCA4pDoAhVk-SoKHX6PD3kQ6AEIPTAC
This is an adult bull moose
A prime, large and strong bull muskox killed by bear
books.google.it/books?id=oLIOAAAAYAAJ&pg=PA25-IA2&dq=Their+strength+and+dexterity+are+astonishing
,+and+the+largest+and+most+spirited+bull+is+soon+vanquished+and+killed+by+a+full+grown+bear&hl=it&sa=X&ved=0ahUKEwiKuJ_h5JDoAhWjlosKHUHlDK8Q6AEINDAB#v=onepage&q=Their%20strength%20and%20dexterity%20are%20astonishing%2C%20and%20the%20largest%20and%20most%20spirited%20bull%20is%20soon%20vanquished%20and%20killed%20by%20a%20full%20grown%20bear&f=false
A big bull muskox
Adult bull muskox killed by a Barren ground grizzly
Abstract
"The carcass of an
adult muskox bull (Ovibos moscharus) killed by a barren-ground grizzly bear
(Ursus arctos richardsoni) was found in the Thelon Game Sanctuary. It is suggested that
adult muskox bulls along the Thelon River system have become prey for at least some grizzly bears
that have learned to ambush them in dense vegetation."
www.researchgate.net/publication/237330817_Muskox_Bull_Killed_by_a_Barren-Ground_Grizzly_Bear_Thelon_Game_Sanctuary_N_W_T
Grizzly bear predation on a bull bison
www.bearbiology.org/fileadmin/tpl/Downloads/URSUS/Vol_13/Wyman_13.pdf
A bull bison
Brown bear sow killed an adult cow moose
In poland a brown bear killed a bison cow
Polish
"Martwą kilkuletnią żubrzycę, już częściowo zjedzoną, znalazł leśniczy Jan Duell. Wraz z synem wybrał się na spacer i przypadkiem natrafił na zabite zwierzę.
Leśnik od razu przypuszczał, że to sprawka niedźwiedzia. Żeby mieć pewność zamontował na drzewie kamerę na fotokomórkę. Już pierwszej nocy podejrzenia Jana Duella się potwierdziły.
- Do padliny przyszła dorosła niedźwiedzica z dwoma rocznymi młodymi - mówi leśniczy Marcin Scelina. - Zwierzęta ucztowały, a kamera robiła im zdjęcia.
Specjaliści przeprowadzili sekcję zwłok żubra. - Wszystkie ślady, w tym rozległy wylew wewnętrzny w okolicach kręgosłupa, wskazują jako sprawcę niedźwiedzia.
-
Jednym potężnym uderzeniem łapy zabił żubrzycę
- mówi Scelina. - To spory niedźwiedź. O jego sile świadczy fakt, że przeciągał ofiarę na odległość kilkunastu metrów.
Wyżerkę na padlinie mają też kruki, myszołowy, jastrzębie i inne drobne ptaki leśne."
English
"A forester, several years old, already partially eaten, was found by Jan Duell, forester. Together with his son he went for a walk and accidentally came across a killed animal.
The forester immediately thought it was the bear's doing. To be sure, he mounted a photocell camera on the tree. On the first night Jan Duella's suspicions were confirmed.
- An adult bear with two year old cubs came to the carcass - says forester Marcin Scelina. - The animals were feasting, and the camera was taking pictures of them.
Specialists performed a bison autopsy. - All traces, including extensive internal hemorrhage around the spine, indicate as the perpetrator of the bear.
"
He killed the European bison with one powerful blow of his paw
," says Scelina. - It's a big bear. His strength is evidenced by the fact that he dragged the victim over a distance of several meters.
Crows, buzzards, hawks and other small forest birds also have a carnivore."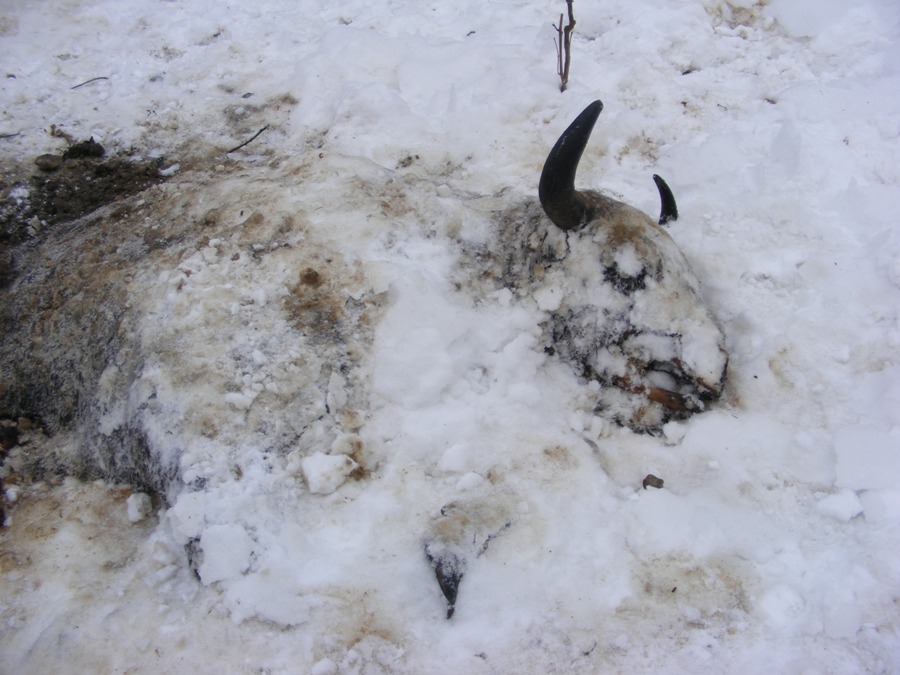 nowiny24.pl/w-bieszczadach-niedzwiedz-zabil-zubra/ar/6104709
Grizzly bear killed a healthy bison cow
"Later in the week, we were alerted to a bison carcass by Caroline, an interpretive ranger. With much yelling and eyeing of the forest edges, we flushed the 30+ ravens off the carcass as we approached. The necropsy found significant subcutaneous hemorrhaging on the hump of the
very healthy (lots of fat in the hump and marrow) cow bison, indicating that she was killed by a bear. Grizzly bears often attack from the front
, as opposed to wolves, which typically attack from the rear. The bears basically give their prey a good swat in the face or jump them from the side and latch onto their back."
www.aspiringecologist.com/2010/03/keys-bleh.html
A european killed TWO bison bulls in Poland
"The bear killed two bisons in the Bieszczady Mountains
Both were not far apart. Of the first of them, an
8-year-old bull, only the front part remained, including the head. In contrast, the body of the second individual, also a bull but 11 years old, has been preserved in better condition. He had a damaged spine and bear claw wounds."
translate.google.pl/translate?hl=pl&sl=pl&tl=en&u=gospodarkapodkarpacka.pl%2Fnews%2Fview%2F23091%2Fniedzwiedz-zabil-dwa-zubry-w-bieszczadach
This account was recorded by multiple polish news sites
Here is one
wiadomosci.gazeta.pl/wiadomosci/7
,114883,22676122,cos-zabilo-te-dwa-zubry-i-na-pewno-nie-byl-to-czlowiek-okaleczone.html
This is a european bull bison
The brown bear is a rare predator of the wild yak
They are capable of killing bulls
"In rare cases, brown bears are
capable of killing bulls of the largest ungulates in regions they inhabit, reportedly including moose, muskox, wild yak (Bos mutus) and both American and European bison (Bison bison and B. bonasus)
"
www.gbif.org/species/113276597
Historically, the main natural predator of the wild yak has been the Tibetan Wolf, but
Brown Bears and Snow Leopards have also been reported to predate on Yak
in some areas.
onekindplanet.org/animal/yak/
The wild yak
In 1973, brown bears killed 12 tigers, including adult males.
"A report from 1973 describes 12 known cases of brown bears killing tigers, including adult male tigers; in all cases the tigers were subsequently eaten by the bears."
www.gbif.org/species/113276597
Adult male siberian tiger
Bears killed 18 moose, six were adult bulls, 2 of those were large full grown animals
www.google.com/search?biw=1920&bih=937&tbm=bks&sxsrf=ALeKk03oc94Xb5_RLehYhwi77vIHdRWrKA%3A1583876899485&ei=IwtoXpaPHfKHwPAPm5C3EA&q=adult+bull+moose+killed+by+bear&oq=adult+bull+moose+killed+by+bear&gs_l=psy-ab.3...4210.4210.0.4511.1.1.0.0.0.0.179.179.0j1.1.0....0...1c.1.64.psy-ab..0.0.0....0.eXYNgh06xKs
American Black bear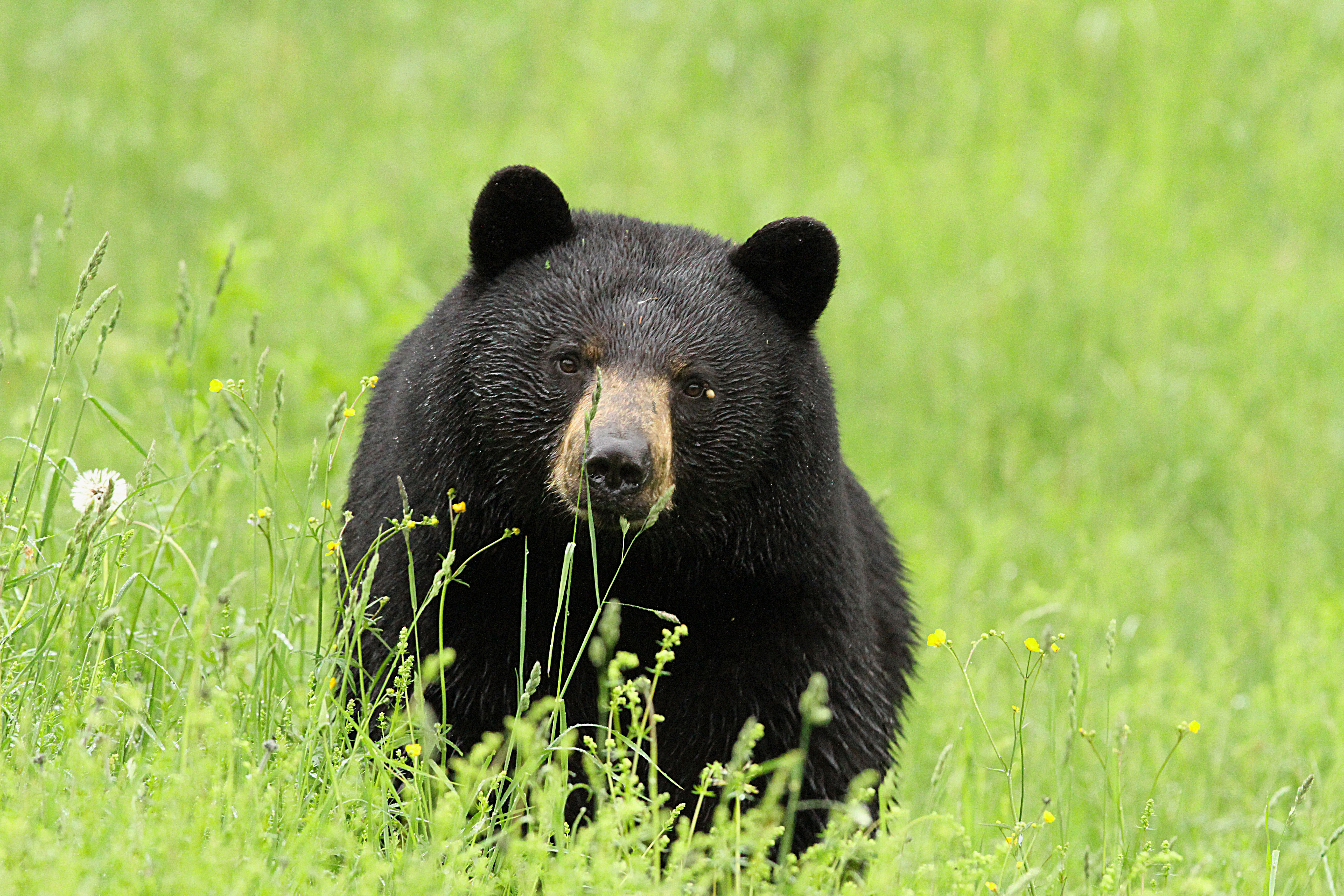 Two adult bull elks killed by a single black bear
Predation by Black Bear on Mature Male Elk
www.jstor.org/stable/1378446?cookieSet=1&seq=1
A bull elk
A bear killed a moose with one blow. Then a big male black bear killed a cow moose
books.google.it/books?id=xY5aDwAAQBAJ&pg=PT64&dq=black+bear+killed+moose&hl=it&sa=X&ved=0ahUKEwi0qOuI9pDoAhWF16YKHaLTCBAQ6AEIMjAB#v=onepage&q=black%20bear%20killed%20moose&f=false
A cow moose
Asiatic black bear
Wild water buffalo
"The Asiatic black bear frequents moist deciduous forests and brushy areas, especially in the hills and mountains. It ascends to elevations as high as 3,600 meters in the summer and descends in the winter. It swims well. According to Lekagul and McNeely (1977), this bear is generally nocturnal, sleeping during the day in hollow trees, caves, or rock crevices. It is also seen abroad by day when favored fruits are ripening. It climbs expertly to reach fruit and beehives. It usually walks on all fours but often stands on its hind legs so that its forepaws can be used in fighting. The diet includes fruit, buds, invertebrates, small vertebrates, and carrion.
Domestic livestock is sometimes taken, and animals as large as adult buffalo are killed by breaking their necks
"
books.google.it/books?id=0q5aHw2mFi8C&pg=PA117&lpg=PA117&dq=The+diet+includes+fruit
,+buds,+invertebrates,+small+vertebrates,+and+carrion.+Domestic+livestock+is+sometimes+taken,+and+animals+as+large+as+adult+buffalo+are+killed+by+breaking+their+necks.&source=bl&ots=mjM1nBCC1Y&sig=ACfU3U2yleIwbD2MqxNI4j358oQ0pNaJdw&hl=it&sa=X&ved=2ahUKEwib2v7G95DoAhXrx6YKHYhKAGEQ6AEwAHoECAoQAQ#v=onepage&q=The%20diet%20includes%20fruit%2C%20buds%2C%20invertebrates%2C%20small%20vertebrates%2C%20and%20carrion.%20Domestic%20livestock%20is%20sometimes%20taken%2C%20and%20animals%20as%20large%20as%20adult%20buffalo%20are%20killed%20by%20breaking%20their%20necks.&f=false
Wild water buffalo
Another source
books.google.it/books?id=MxdWDwAAQBAJ&pg=PT99&dq=asian+black+bear+kill+water+buffalo+breaking+necks&hl=it&sa=X&ved=0ahUKEwjc6YT_95DoAhVnyqYKHXhiDPgQ6AEIKTAA#v=onepage&q=asian%20black%20bear%20kill%20water%20buffalo%20breaking%20necks&f=false
Moon bears also prey on this animal named takin
A takin
From the wiki page about the Asiatic Black bear
"They appear to be more carnivorous than
most other bears, including American black bears, and will kill ungulates with some regularity, including domestic livestock
.[35] Wild ungulate
prey can include muntjacs, serow, takin,[36] wild boar[37] and adult water buffaloes, which they kill by breaking their necks.[38]
"
en.wikipedia.org/wiki/Asian_black_bear
Polar bear
Video footage of polar bear killing a bull walrus
A bull walrus
Lone male polar bear killed multiple large walruses
"From walruses we pass to bears. Mr.Lamont believes that the Polar Bear - the Ursus Maritimus of naturalists - is, in a state of nature, the largest and strongest carnivorous animal in the world. Be this as it may, his first specimen - the one which he was watching through the old opera-glass of which we have spoken - was a monster. His carcass measured eight feet in length, and almost as much in circumference. He stood four and a half feet high at the shoulder. The fore-paws were 34 inches around. His weight was at least 1200 pounds: of this the fat constituted 400 pounds, and the hide 100. When skinned, his neck and shoulders were like those of a bull.
The hunters say that he will kill the biggest bull-walrus, although nearly three times his own weight, by springing upon him from behind, and battering in his skull by repeated blows
. Mr. Lamont believes this, though he doubts the stories told of the way in which he is killed by hunters. One man, who professes to know all about it, says that the hunters use a spear having a cross-piece a couple of feet from the point. Hunter presents point to Ursus; Ursus seizes spear by cross-piece, and in trying to drag it away buries the blade in his own body, and so kills himself."
www.explorenorth.com/library/weekly/aa032201c.htm
The following accounts come from
INTERACTIONS BETWEEN POLAR BEARS AND OVERWINTERING WALRUSES
IN THE CENTRAL CANADIAN HIGH ARCTIC
Between 1981 and 1989,
we found evidence of 10

walruses that we believe were wounded or killed by polar

bears
(Fig. 1).
The date of death is known only for the kill

at site 2 where the bear was observed killing a large adult

male walrus and pulling it from its haulout hole (D. Grant,

pers. commun.)
. All the other carcasses were frozen and
partially eaten when found. Wind-blown snow often
obscured the bear tracks in the area, making it difficult to
reconstruct the attack, but the presence of bear claw
marks, blood smears, and scratching marks made by
walrus flippers indicated an interaction had occurred. In
2 cases, the haulout hole near the carcass was still unfrozen, suggesting the walruses were killed on the ice before
they could escape, and that freezing-out was not a factor.
There was blood soaked into the snow beneath the head

of the adult male found dead in February 1987 at the

shoreline tidal cracks below our camp (site 11), suggesting that a bear killed him
, though possibly only after the
ice shifted and he was frozen out. At 6 of 7 sites of kills
or probable kills, polar bears were feeding on the carcass
when it was sighted, but we did not know if they were
predators or scavengers.
www.bearbiology.org/fileadmin/tpl/Downloads/URSUS/Vol_8/Calvert_Stirling_8.pdf
Polar bears are capable of killing and hauling 600 kg belugas from the water
Beluga
Most authors suggest polar bears prey on young walruses only (Loughrey 1959, Fay 1985). This results, at
least in part, from the perception that polar bears cannot
kill large walruses, or do so only with great difficulty.
This impression is reinforced by anecdotal suggestions
that a large walrus may occasionally kill an attacking
polar bear (Freuchen 1935, Kiliaan and Stirling 1978).
However, the relationship between the weight of a solitary predator and the maximum size of prey regularly
killed predicts a 400-kg adult male polar bear should be
able to kill prey in excess of 600 kg (Earle 1987). That
would include adult walruses. The 2 adult male walruses
observed being dragged from the water (Fig. 1, site 2; K.
Frost, pers. commun.) were both killed by single large,
probably male, polar bears. Presumed
adult male polar

bears have also been recorded killing and hauling from

the water adult belugas weighing over 600 kg (Lowry et

al. 1987) and adult female narwhals (Monodon monoceros)
(Smith and Sjare 1990). We suggest female polar
bears with cubs and subadult bears seen feeding on
walrus carcasses were only scavenging. Polar bears are
opportunistic hunters, however, and we have observed
bears of all age- and sex-classes stalk walruses; a subadult
or young adult bear would attempt to kill a walrus if the
conditions were right.
www.bearbiology.org/fileadmin/tpl/Downloads/URSUS/Vol_8/Calvert_Stirling_8.pdf
Polar bear kills beluga whale right in the water
Polar bears have been recorded killing narwhals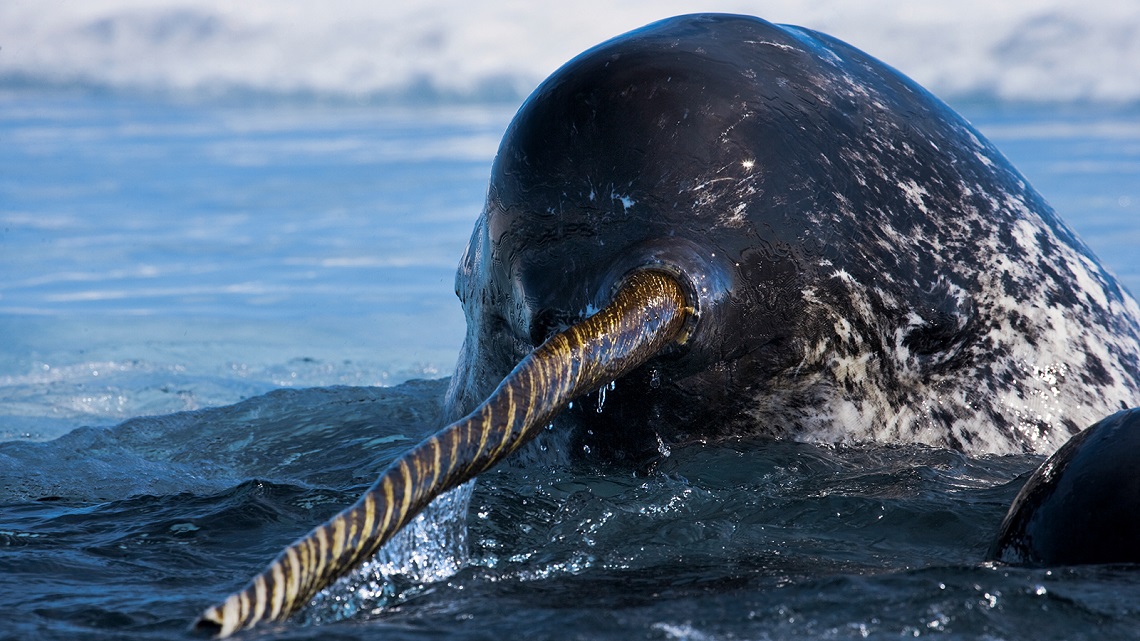 Diet composition of polar bears in Svalbard and the western Barents Sea
Abstract
"Uncer-tainty in diet composition arises because
polar bears also consume a variety of other species, including walrus (Odobenus rosmarus) (Calvert and Stirling 1990), white whales (Delphinapterus leucas) and narwhal (Monodonmonoceros)
(Lowry et al. 1987; Smith and Sjare 1990),harp seals (P. groenlandica) (Lønø 1970), seabirds(Stempniewicz 1993) and carrion (Christiansen 1981).However, most studies concur that seals are the main prey."
www.researchgate.net/publication/225758891_Diet_composition_of_polar_bears_in_Svalbard_and_the_western_Barents_Sea
Polar bears will hunt adult walruses, beluga whales and narwhals
arcticwwf.org/species/polar-bear/diet/
Polar bears kill muskox. They are more
likely to tackle bulls


books.google.it/books?id=ejIQ7EHhMQQC&pg=PA45&dq=polar+bears+kill+bull+muskox&hl=it&sa=X&ved=0ahUKEwiBw4vV_5DoAhWnxaYKHbDWBuEQ6AEIMzAB#v=onepage&q=polar%20bears%20kill%20bull%20muskox&f=false
Sloth bear
Female sloth bear fights, defeats. injures and chases away an adult male tiger
"Towards the end of the fight, the
tiger could be seen running for its life, bloodied and injured
"
www.dailymail.co.uk/news/article-5453995/Fight-tiger-bear-caught-film-India.html
Sloth bear killed a leopard
In 1968, Kurt and Jayasuriya report of a sloth bear eaten by a leopard at Yala National Park, India. The details? The bear victim was either a young adult or sub adult female sloth bear described as three-quarter grown. The encounter occurred by a palu tree but whether the leopard was hunting the bear or if the meeting was a chance encounter is unclear. The authors stated the park staff were have to recorded only one other meeting between these two species in Yala National Park where a
leopard was killed by a bear
. The seriously injured bear was later destroyed by park officials. No other details of the encounter were provided.
Kurt, F. and Jayasuriya, A. (1968). Notes on a dead bear. Loris, 11: 182-183.
Even bear can kill the leopard
I had a lot of fun making this thread. I just made to make a pure thread about impressive predation and combat feats done by tigers. Some of these accounts you guys probably know but some are definately new. This is a reply to anyone who thinks bears are not capable predators. Carnivora has impressive feats by all the big cats but none for bears. So I made this thread. Hope you guys like it.